Tilt EQ is a free VST Plugin to achieve a linear tilt function with a single knob. This way the spectral balance of audio material can be changed very easily without introducing colouration.


The center frequency of the tilt function is 1300 Hz.
Tilt EQ is based on FIR filters that can be either linear or minimum phase. Baxandall minimum phase IIR filters also have been implemented in order to allow further adjustments. The following graphs show second order Baxandall shelving filters in comparison to the FIR approach with linear slope. The tilt of the slope can be set by the linear tilt knob. The steepness of the slope is given in dB/oct.
The following graph shows two different settings with the linear slope set to maximum, in this case -1dB / oct. and 1dB/oct: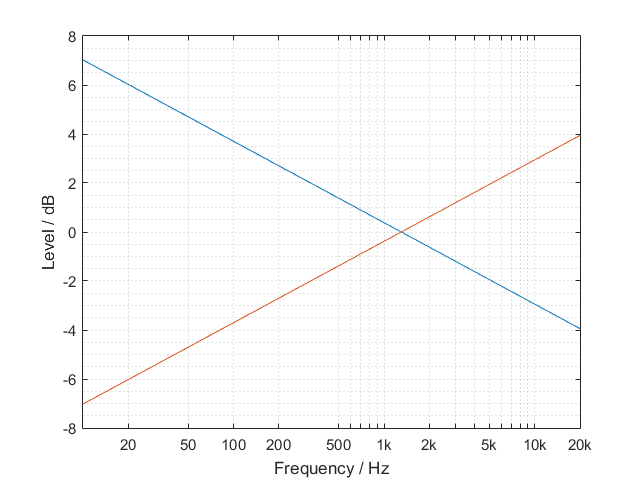 Baxandall highshelf filters with gain = +-3dB, Freq = 4500 Hz
lowshelf filters with gain = +-6dB, Freq = 125 Hz: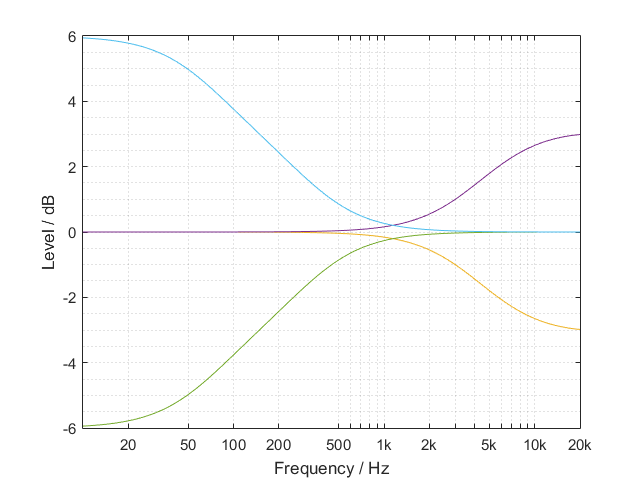 Download TiltEQ VST 64 bit V_0.14 for Windows
Download TiltEQ VST 32 bit V_0.13 for Windows
Download TiltEQ VST V_0.13 for OS-X (Universal Binary)
Download TiltEQ AU V_0.13 for OS-X
For windows you may need to install Microsoft Visual C++ Redistributable für Visual Studio 2017, which is available at https://www.visualstudio.com/de/downloads/ at the bottom of the page.
TiltEQ for Windows requires at least Windows 7.
TiltEQ for MAC requires at least Yosemite (OS-X 10.10).
TiltEQ is free. Please donate if you like TiltEQ. Maybe I can make a AAX-version for Protools if you support me and add more features.

Changelog:
V_0.14: Fixed wrong behavior when using Pyramix offline rendering

V_0.13: Removed knob movement bug

-V_0.12: Removed noise when switching on/off
-Plugin reports delay immediately
-Now working with MKL for better performance
Matthias Kock 2017
matthiaskock at gmx.net